| | |
| --- | --- |
| | |
| The Province of Gallia Narbonensis | |
Mosaic floor
(end of Ist Century BC)
found in the foundations
of the City castle.

THE ROMAN TOWN OF CARCASO


t the end of the IInd Century BC the settlement then named Carcaso was integrated into the Narbonnais colony. The foundation of this colony in 118 marked the first foothold in the Roman conquest of Gallia Narbonensis. In the last quarter of the Ist Century BC this small administrative and commercial centre on the Aquitaine Way became the capital of the Julia Carcaso colony, ruling over the western part of the Aude basin. As a result of archaeological research we can define the topography of this urban centre which, thanks to heavy embankments, spread out to the perimeter of the mount and beyond it towards the north along Narbonne road. The remains of walls made of blocks of sandstone, finished walls, and floors decorated with mosaics and geometric patterns indicate the predominance of ancient buildings whose orientation suggests an orthogonal layout typical of Roman urban design. On the other hand, not a single public building has been found to date.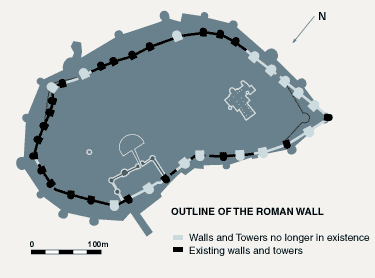 The threat of invasions in the second half of the IIIrd Century, pushed the town back onto its hill behind a strong outer wall which was over 1,200 m. long and armed with semi-circular towers and posterns.



The Roman wall seen from
the north facade.
From left to right the
Marquière, Samson and
Moulin d'Avar Towers.