FROM VISIGOTHS TO VISCOUNTS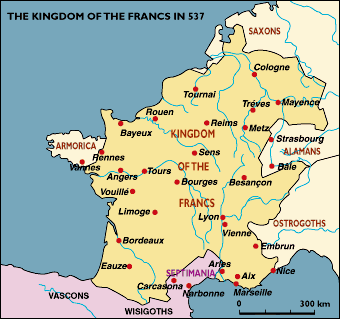 fter the dismantling of the Roman Empire, Carcaso, now Carcasona, was ruled by the Visigoths whose kingdom extended to Spain and southern and western Gaul. After the victory of the Francs over Alaric II at Vouillé in 507, the Visigoths retained the Iberian Peninsula and Septimania (Present-day Southern Languedoc). Carcasona remained one of the frontier towns on its northern border. During the VIth Century, along with Agde and Maguelone, Carcasona became the seat of a bishopric. A Visigothic cathedral was built but its site has never been determined. In the VIIIth Century, the Visigoths were defeated in the Arab invasion, but, in 759 the town was taken by Pépin le Bref, king of the Francs who then took power over all Septimania. The legend of Dame Carcas arose from these events.
The administration of the new empire came under the authority of the counts with the county of Carcassonne being ruled by families of ancient lineage: the Oliba dynasty till the Xth Century followed by the Comminges-Cousserans family in the XIth Century.