ROYAL POWER AND THE NEW FACE
OF THE FORTIFIED TOWN
The Second Phase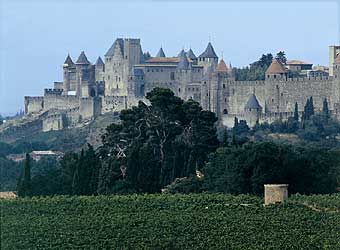 The castle against the Inner Wall on the west face.


t the end of Raimond Trencavel's siege of the city, the suburbs were in ruins and the city fortifications heavily damaged. Repairs were begun in 1242 on several sections of the outer wall and on the Aude Barbican, an advance post on the western side of the city. The suburbs of Saint-Vincent and Saint-Michel on the north east and south east sides of the city were destroyed to prevent possible uprisings by their inhabitants. With the construction of the Peyre Tower and the Vade Tower (records state it was finished in 1245) the defence of the south east side of the city was ensured. A permanent garrison was stationed at the castle which was enlarged : An additional floor was built onto the main body of the Roman buildings and a new building containing a ceremonial hall was added on the south side.


The Vade Tower seen
from the south-west.