Plan of the two towns of Carcassonne
in Languedoc, by Desjardins.
XVIIth Century. Pen, wash and
water-colour drawing.

THE RISE OF THE SAINT-LOUIS BASTIDE
AND THE DECLINE OF THE CITY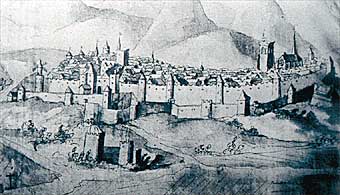 etween the XIVth and XVIIIth centuries, the Bastide prospered because of the drapery industry as can be seen from the townhouses built by rich Carcassonne merchants. Little by little, the leading citizens and the civil, legal and religious authorities preferred the Lower Town (Ville Basse) over the city which had lost its military significance after the Treaty of the Pyrenees definitively attached Roussillon to the French kingdom in 1659. In 1801, the episcopal seat was moved to the Saint-Michel church in the Bastide leaving the Saint-Nazaire - Saint-Celse cathedral deserted. Napoleon Ist downgraded the fortress three years later. Listed as a second category stronghold in 1820, it received only minimal maintenance from the war ministry. However, during the July Monarchy, the process of decay was reversed when local scholars, along with the newly created historic monuments department intervened in the old town's destiny. Thus, in a climate of heightened awareness of its heritage, one of the most exceptional restoration projects of the XIXth Century was begun in 1844 under the direction of the architect Eugène Viollet-le-Duc.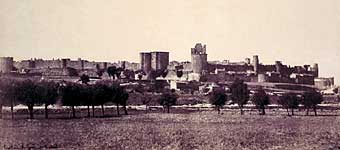 The east front of the city, photographed in 1851
by Mestral and Le Gray.


The city of Carcassonne in
Languedoc. Anonymous,
1610. Drawing.
The west front of the city is seen here. The walls are broken up by the steep roofs on the towers. The inner rampart is crenellated and there is a windmill on top of one of its towers.