The Illuminations
Postcard, 1898

THE CITY IN THE XXth CENTURY
A NEW FACE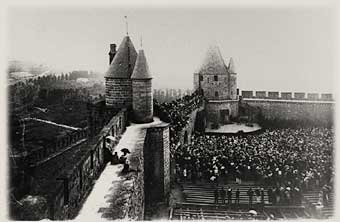 La Fille de Roland (The daughter of Roland).
First performance 26 July 1908. Postcard.


n the early XXth Century, the city of Carcassonne, restored by Eugène Viollet-le-Duc, had regained its old XIIIth Century lines. With a history spanning more than 2,000 years, the ancient fortress fulfilled a new destiny in the first half of the XXth Century portraying the image and decor of an ideal and legendary Middle Ages. Medieval melodramas performed in the open air theatre, bimillenary festivals and illuminations made up the main events of the tourist season. From 1908, the city's walls and towers were used as inspiration by film-makers in search of a decor that evoked the long lost Middle Ages. Named a World Heritage Site in 1997, the city of Carcassonne has, since its rebirth in the XIXth Century, played an important role in man's knowledge and imagination.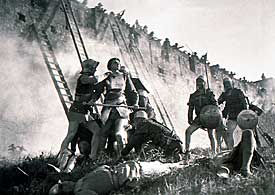 La Merveilleuse vie de Jeanne d'Arc
(The remarkable life of Joan of Arc).
Film by Marc de Gastyne, 1927 DR