The Marquière Tower
on the north facade.

THE MOULIN, CONNETABLE, VIEULAS,
AND MARQUIERE TOWERS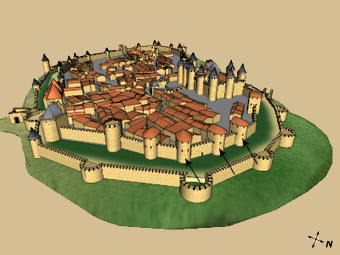 hese three ancient towers on the north facade are built on large square bases. Some of the masonry constructed with recovered materials attests to the underpinning work undertaken in the second quarter of the XIIIth Century. This work caused the destabilisation of the structures as can be seen in the Vieulas Tower's spectacular lean. The first storeys are made of solid stonework which reinforces the structure as a whole. The upper parts of the Moulin du Connétable and the Moulin du Vieulas Towers were rebuilt at the end of the XIIIth Century. However the upper part of the Marquière Tower still has the ancient openings with roman arches, within which the medieval master builders created arrow slits to complete the defences.


Underpinning work.
Drawing, J-C Golvin

The Moulin du Connétable Tower, detail of
Roman bond.