The Count's Castle buildings
constructed against the inner
wall in the XIIth Century.

THE CASTLE IN ROMAN TIMES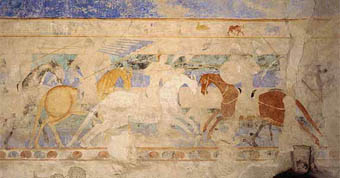 The castle's Roman keep: painted mural from the end
of the XIIth Century-beginning of the XIIIth Century,
representing knights in combat.


n the early XIIth Century Viscount Bernard Aton Trencavel started construction of a new residence intended to replace the primitive castle that historic tradition locates on the site of the Narbonne Gate towers.
The palatium, as it was called, was built on the eastern extremity of the rocky outcrop and backed on to the ancient wall and three of its towers which were heightened at that time. The residence consisted of two main groups of buildings at right angles dominated by a square keep. The single, upper floor had a crenellated parapet whose vestiges can still be made out in the masonry. About 1150, the north side of the building was finished with the construction of a castle chapel dedicated to Mary. The remains of the chapel's apse are preserved today. The residence was laid out around a central court, which was no doubt enclosed on the east side by a light fence or palisade.



The inner courtyard of the
castle and Roman keep
where the painted murals
have been preserved.