The castle's eastern gate, the
Casernes Tower and the curtain
walls where the hoardings used to
defend it were reconstructed.




The castle seen from the south east.
On the left and on the front of the Pinte
Tower, the extension to the main
building can be easily seen from the
tracery mullioned and transomed
windows, added in the XIVth Century.

THE CASTLE UNDER THE KINGS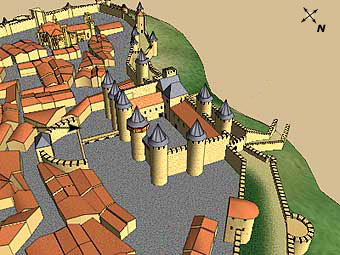 etween 1228 - 1239, after the creation of the royal seneschalsy, new defences were added to the castle. A wall with battlements and round towers with arrow slits was built around the main buildings covering an area of 80 m by 40 m. To the east, a gate framed by twin towers and, to the west, a carriage gateway, controlled access. Beyond a dry ditch to the east the defences were completed by a semi-circular barbican with a fortified gate.
The main Roman buildings were raised a storey and a new building was constructed in the south section against the wall. In the "Midi" courtyard its remains (the bases of a stone colonnade on the ground floor) as well as a mullioned and transomed window with tracery work (added to the upper floor during the XIVth Century) demonstrate the spaciousness and opulent decoration of its banquet hall and living quarters.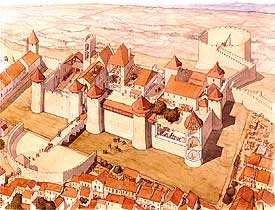 The Count's Castle and the Aude barbican.
Water-colour drawing, J-C. Golvin

| | |
| --- | --- |
| | The castle's semi-circular barbican and the gate set into a defensive tower. |
| | |