View of the outer wall, east facade
with the Peyre Tower (on left).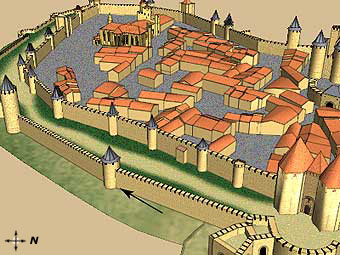 uilt between 1228 and 1245 to surround the ancient ramparts following the creation of the royal seneschalsy the 1,600 m. outer wall runs round the perimeter of the hill. It is divided into sections by 3 barbicans, 2 watch towers and 14 circular towers most of which are open at the back so that enemies couldn't take refuge in them. This line of fortifications was completed with a dry ditch which ran around its walls except on the sides where the steep terrain formed a natural protection. The bond construction, composed of evenly cut sandstone blocks is topped with battlements and merlons with narrow loopholes for firing crossbows. Joist supports at the base of the crenellations indicate the placement of the wooden hoardings which could be quickly erected in the event of war.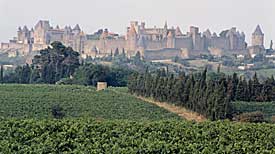 View of the outer wall from the south.