The upper lists. On the left,
the Peyre Tower, on the right
on the inner wall the Saint-Sernin,
du Trauquet, Saint-Laurent, de
Davejean et de Balthazar towers.

THE LISTS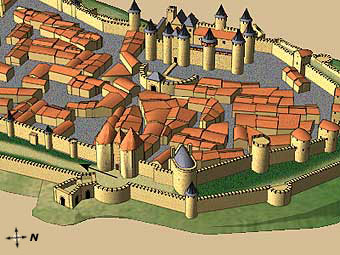 reated when the outer wall was built, the lists consist of a circle of clear terrain, narrow to the west and wide to the north, south and east. During the first half of the XIIIth Century, a considerable amount of work was required to level a natural incline. At that time, some parts of the inside wall's sub-foundations were dislodged necessitating underpinning restoration work. These are characterised by salvaged sandstone masonry. From the XVIIIth Century, the inhabitants took possession of this area, little by little, by building their houses along a central street. As part of the vast restoration project undertaken in the second half of the XIXth Century to restore the fortress to its medieval appearance, the administrative authorities worked for almost sixty years to clear the lists.


Underpinning work
water-colour, J-C Golvin