The Aude Gate and west
elevation of the Count's Castle.

THE WEST FORTIFICATIONS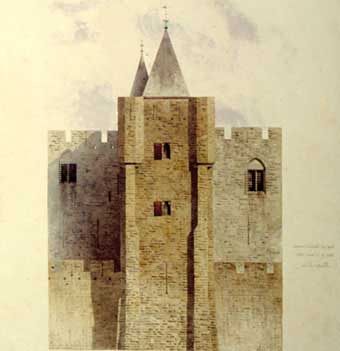 The restored Bishop's Tower. Viollet-le-Duc, January 15 1853,
pen-and-ink, wash, water-colour.


ased on Viollet-le-Duc's 1853 plans and estimate, restoration work on the fortifications was begun on the part most visible from the Saint-Louis Bastide - the west facade of the inner rampart. Five years later, six towers and their curtain walls were finished between the Justice Tower and the Mipadre Tower. The military engineers worked on the corresponding section of the outer wall.


The west facade around 1876.
Photographed by Médéric Mieusement.
The Pinte Tower. Eugène
Viollet-le-Duc, drawing