The castle after the restoration
of its east entrance

The castle surroundings,
and barbican. Restoration plan.

AFTER THE DEATH OF VIOLLET-LE-DUC :
PAUL BOESWILLWALD

ollowing the death of Viollet-le-Duc in 1879, his assistant and project inspector, Guiraud Cals, briefly assumed responsibility for the site. In this letter to the Fine Arts minister, he paid moving homage to his master:
"The death of M. Viollet-le-Duc is a very great loss to me; I have worked under him since 1848; I loved him because he was kind and strict at the same time; my father worked under him before me, from 1845 till 1848."
From 1880, Paul Boeswillwald, an ex-student of Viollet-le-Duc continued and finished the restoration of the ancient fortified town, scrupulously following the architect's plans. His most significant project was the work on the castle and its barbican which began in 1890 and marked the end of the restoration of the fortress when it was finished in 1910. Paul Boeswillwald put the finishing touches to the Carcassonne site by reconstructing on one of the castle curtain wall the wooden hoardings the principle of which Viollet-le-Duc had redefined earlier. In the space of 60 years, the city, which had come under the administration of the Ministère des Beaux-Arts (Fine Arts ministry) in 1903, had undergone a radical transformation. The lists cleared of the houses that had hidden their walls, the defensive walls with their new battlements the towers with their slate roofs, gave the Carcassonne fortress back its medieval appearance.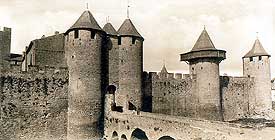 Main entrance to the Count's Castle. 1910.
The Count's Castle, west
facade before restoration.
Viollet-le-Duc, drawing.
View of the Count's Castle
from the south.
Viollet-le-Duc, drawing