The Saint-Nazaire Gate from the
south. In the middle of the
photograph, the Saint-Martin Tower.

THE SAINT-NAZAIRE GATE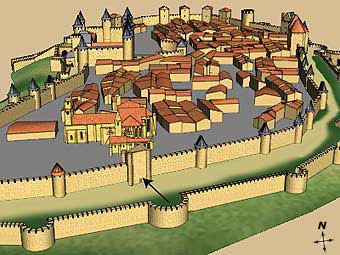 here are only two square towers in the fortress: the Bishop's Tower and the Saint-Nazaire Tower. The door in the latter controlled access to the town from the south. The entire structure, in ruins, was partially rebuilt by Eugène Viollet-le-Duc, between 1864 and 1866. Its double opening, protected by portcullises and heavy wooden doors encloses an angled passage designed to impede the action of a battering ram.

The Saint-Nazaire Gate
abutting on the lists.