Section of the inner wall between
the castle and the Aude Gate
(in the foreground).

THE AUDE GATE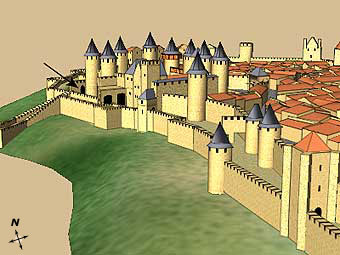 he Aude Gate, the main entrance to the walled city from the bastide is situated on the west face close to the castle. Cut into the wall, like the Rodez Gate in the north, it is armed with a bartizan. Its defense is completed by a military system composed of an outer gate reached by a covered passage protected by merlons. This passageway was originally dominated by a barbican which stood on the right bank of the river till 1816. The town of Carcassonne decided to have the Saint-Gimer Church built on the site and engaged Eugène Viollet-le-Duc in 1854 to draw up the plans and oversee construction.